totalREWARDS Business Debit and Credit Cards

Rewards Reimagined
With the Education First FCU totalREWARDS business debit and credit card, you'll earn points for every purchase you make! That's right. Every Swipe, Tap and Click earns you rewards that can be used for whatever your heart desires. So prepare to be spoiled - get an Education First FCU debit or credit card today and take advantage of totalREWARDS!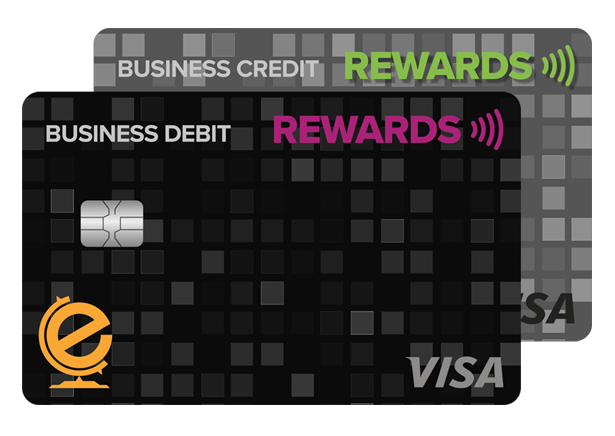 You Deserve to Be Rewarded!
We're excited about our new rewards program, and we hope you will be, too.

Introducing totalREWARDS, only at Education First Federal Credit Union.

Some bank and credit union rewards programs only let you earn points from certain types of purchases, stores, or websites. But not at Education First. We believe everyone should earn rewards on every purchase!*

Want more good news? As an Education First FCU debit and/or credit cardholder and totalREWARDS member, you can combine the points you earn on purchases from your debit and credit cards! With all those points, you'll have greater access to travel, merchandise, gift cards, and yes - cash back too!
View Your Total Rewards Balance
totalREWARDS Business Debit Card
Cash is so passè. Watch the points pile up when you use your Business totalREWARDS debit card for everyday purchases. Groceries, streaming services, dry cleaning, pet grooming...you name it, you'll earn rewards for it. Start earning one (1) point for every four (4) dollars you spend.
totalREWARDS Business Credit Card
Earning rewards is easy. In fact, it's so easy you don't have to do a thing. Every time you make a purchase you'll automatically earn one (1) point for every one (1) dollar you spend on purchases. Online and in-person - every single purchase will result in rewards
Handy Tools at Your Disposal.
Calculate your budget, see and compare the latest rates and discover what perks you gain for being a member of Education First Federal Credit Union.

Have Questions? We're Here to Help.