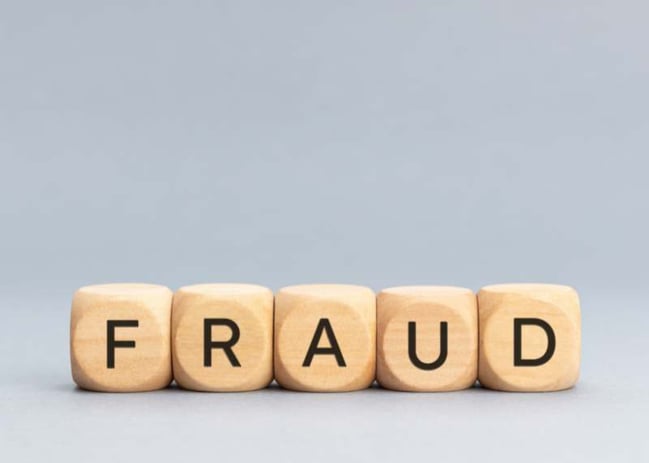 Don't Be a Victim. Always Be Vigilant.
The world is filled with good people. And a few rotten eggs. Those are the hackers, thieves and fraudsters who are trying to steal your mail, your passwords, your personal information and, ultimately, your money. Let's work together to find ways to frustrate them.
Identity theft. It's time to take it personally.
Southeast Texas residents and other Americans lose tens of millions of dollars every year because their personal information falls into the wrong hands. Fraudsters use your personal data to empty deposit accounts, run up credit card balances and generally ruin your credit. At Education First Federal Credit Union, we've taken many steps to protect your security. But you should get involved as well.
Guard your personal information and passwords. Shred sensitive documents. Keep records of your credit cards. That's just a start.
Never reveal personal identifying information unless you are sure how it will be used and whether it will be shared with others.

Never give out personal information on the phone, through the mail, or over the Internet unless you have initiated the contact and you know who you are dealing with
Review your bills. A missing credit card bill could signal that someone may have gained access to your account and changed the billing address.
Guard outgoing mail by placing it in the post office collection boxes and taking it to your local post office.
Use unique passwords for all your
Don't provide usernames and passwords to anyone for any reason.
Keep papers with personal information in a safe place. Shred receipts, copies of credit applications, physician statements, insurance forms, bank checks and statements that you are discarding.
Shred expired charge cards and credit offers you receive in the mail.
Keep all personal information in your home in a secure place not easily discovered by others.
Verify that personal information in your workplace is kept in a secure location.
Maintain an accurate record of all credit cards. Include the names on the cards, account number, expiration date and phone number to call in case the card is lost or stolen.
If a credit card is lost or stolen, call the company and cancel the card immediately.
Don't carry your Social Security card with you. Give out your number only when absolutely necessary.
Check your credit report at least once a year to make sure it is accurate.
Give us a call at 409-898-3770 or 800-456-4684, Monday through Friday from 8 a.m. to 6 p.m., to report a lost or stolen Education First debit or credit card. Here are some other things you should report to us.
Fraudulent activity on your account

Unauthorized check or paper draft activity on your account

Unauthorized ACH withdrawals on your account

Unauthorized debit card transactions on your account

Unauthorized wire transfers on your account

Lost or stolen checks

Lost or stolen debit or ATM card
Text messages are a great way to stay in touch with family and friends. But they're increasingly used by online thieves as part of a scheme to plant viruses in your computer.
Beware of text messages telling you to use your computer to access a certain web address.




These messages may tell you that unless you comply you will be charged or subscribed to a service.

Once you go to the web address, your computer may be compromised with a Trojan Horse program that puts your data security at risk.
Playing the lottery can be fun. But no one is going to contact you online to say you've won. If they do, it's probably a scam.
A typical scam begins with an unexpected email notification that you have won a large jackpot.
The email often originates from a free account such as those offered by Yahoo, Hotmail or MSN.
Scammers often use names of real lottery organizations to try to make themselves look legitimate.
You are usually told to keep the notice secret and to contact a claims agent to validate.
The agent asks you to pay a processing fee or transfer charge so the winnings can be distributed.

After you make the payment

,

you never hear from th

em again.
You can buy almost anything on the internet these days, from books and clothes to washing machines and groceries. It's a time-saving way to shop. But because you're using a credit or debit card, you're also vulnerable to identity thieves.
Learn as much as possible about the products and seller.

Read and understand the retailers' return and refund policy.

Choose a secure password to protect your account information.

Include upper case, lower case, a special character and a number in your password, if possible.

Change your passwords frequently.

Only order from retailers that offer a secure checkout and payment process.

Beware of offers that sound too good to be true.
Select a User ID, Passcode, and security questions that are difficult for others to guess. Avoid using family names, local sports names, birth dates, addresses or phone numbers.

Don't share your Internet Banking User ID or Passcode with anyone. Never use information that could be readily found in your wallet or purse, such as your house number or date of birth.
Memorize your Internet Banking User ID or Passcode instead of writing it down.
Never provide your financial information to an unfamiliar website.
Don't leave your computer unattended during an online banking session.
Review monthly financial statements and report any discrepancies immediately. Never ignore suspicious charges on your statements. Call immediately to resolve any discrepancy.
Shred unnecessary old bank statements and other financial documents.
Your credit score affects your ability to borrow money, the rate on your loans and even your job prospects. You should periodically check your score with one of the three major credit bureaus. Federal law allows you to obtain a free credit report every year, which you can get through AnnualCreditReport.com. If your score drops sharply, it may mean that you've been an identity theft victim and someone is raiding your accounts.
Equifax

. To report fraud, call 800-525-6285. To order your credit report, call 800-885-1111 or write to: P.O. Box 740241, Atlanta GA 30374

Experian

. To report fraud, call 888-397-3742. To order your credit report, call 888-397-3742 or write to: P.O. Box 2104, Allen TX 75013

Transunion. To report fraud, call 800-680-7289. To order your credit report, call 800-916-8800 or write to P.O. Box 1000, Chester PA 19022
Handy Tools at Your Disposal.
Calculate your budget, see and compare the latest rates and discover what perks you gain for being a member of Education First Federal Credit Union.
Have Questions? We're Here to Help.